Boden is a British brand selling high-quality classic Preppy style clothing for the whole family. However, Mini Boden is widely sold across many countries, including the U.S., yet their sizing is the U.K. and different from U.S. sizing.
Buying clothing online is currently the most common shopping behaviour of many families, and you can find Mini Boden clothing offered in various locations online.
Getting sizing accurate can be tricky while purchasing clothing online, but with our review today, you should have all the info to find the sizes you need for your child to stock up on Mini Boden.
Is Mini Boden run true to size?
'Some of the links we use are affiliated, and if you use these links, we may receive a small commission with no extra cost to you.
Does Mini Boden run true to size?
While the baby clothes sizes from Mini Boden are mostly slightly snug, the larger kids' sizes do generally run somewhat big. Hence, it is advisable to grab a centimetre and refer to Boden's sizing chart as Boden is unique compared to most other kids' fashion brands.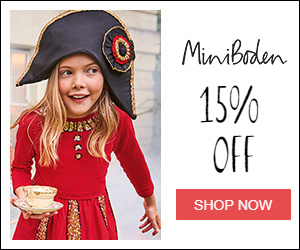 (Enjoy a 15% discount for Boden. Australia using the banner above)
Is Mini Boden use U.K or U.S sizes?
However, Boden is not made in the U.K. Their style and sizes are very British indeed.
As you may know, U.K. sizes are generally larger than U.S. sizes, and therefore, you likely need a different dimension of Mini Boden than any other kids' clothes brands you may have.
Yet, did you know that U.K. sizes are similar to Australian sizes? Hence still, it is advisable to refer to Mini Boden's size chart to ensure purchasing correct sizing as each brand can still vary significantly.
How does Mini Boden sizing work?
For Mini Boden's clothing, you may come across outfits with either single-age sizes such as size 3 or 4 on more fit-critical styles. But also, dual measures are used for Mini Boden garments, such as 3-4 or 4-5 for more spacious styles.
However, most Mini Boden baby is slightly snug, and the larger sizes are quite generous for most kids. Still, it is best practice to confirm accurate sizing using Mini Boden's Size chart to ensure you order the best fitting sizes for your child.
Measuring your child
It is best to measure your child's sizes to help order the correct dimensions for your new Mini Boden. Hence, there is no need to measure babies as baby sizes are calculated by weight.
For children ages 18 months to 9 years old, you can get your measurement tape out and measure your child's height, waist, and chest to find the correct Mini Boden sizing.
You can also measure the hip size of children 9 years and up.
Mini Boden Size chart
You can view Mini Boden Size Chart underneath…
Check Boden's products reviews for the correct size…
Aditional to the Mini Bodens size chart, individual product reviews on the Bodens website can give you detailed information on how specific items have worked for families that have already purchased the items you are interested in.
To read the full-size chart for Boden outfits for kids, visit Boden.com and scroll to the Bodem of the website to find the 'shop with us' option and select 'Sizing option' to view the complete kids sizing chart for Mini Boden.
Final thoughts
If you reside in Australia and plan to check out mini Boden, the U.K. sizing is similar to Australian sizes. However, the British sizing is entirely different from European and U.S.A. kids' sizes.
If you plan to buy your mini Boden outfits online, use the available Mini Boden's size chart, which is most accurate and will refer you to the correct sizes for your child's needs.
Also, checking the induvial product reviews on Boden's website which can be helpful with specific product information about the fitting of particular outfits you may be interested in.
Does Mini Boden run true to size for your child?